Food Services Program
The Food Services Program distributes food to vulnerable, low-income populations with limited access to food in Franklin, Clinton, and St. Lawrence Counties. We do this by (1.) recovering local food and (2.) farming fresh vegetables. The Food Services Program delivers this food to over 25 food pantries across three counties, right to their door!
The program also operates its own food pantry every Friday, where clients can receive nutrition education and the opportunity to sign up for other programs they qualify for, such as SNAP. The Food Services food pantry at 43 Valco Dr. in Malone is open on Fridays from 10:00-12:00, with the exception to those months in which there is a 5th Friday and no services are offered on that day.
The Food Services Program has a New York State Department of Health certified kitchen to package produce for sale, and operates two greenhouses and four gardens. In 2018, the program recovered over 120,000 pounds of food, farmed 3,500 pounds of fresh produce at the program site, and distributed another 3,300 pounds of produce through a partnership with Bare Hill Correctional Facility.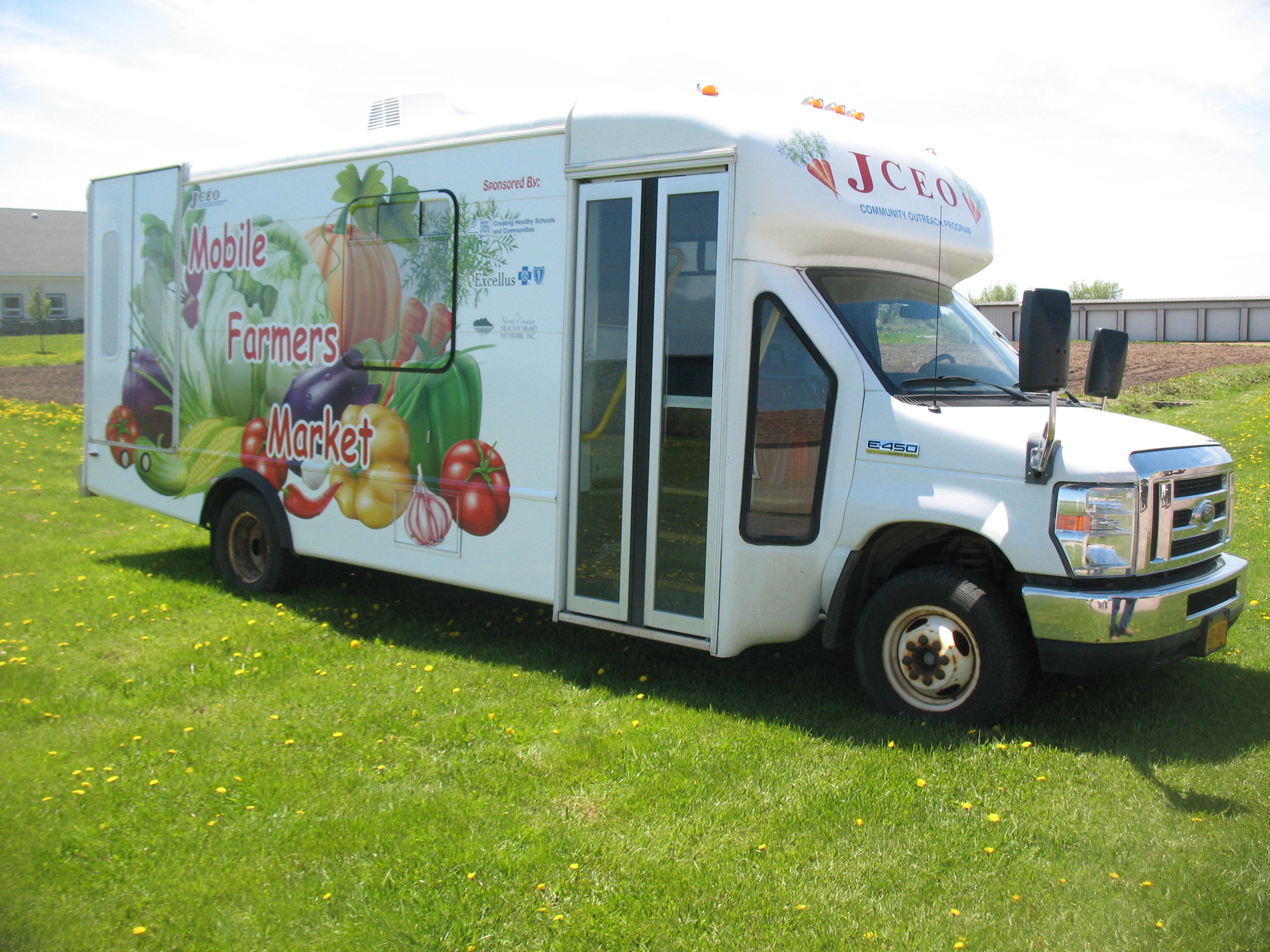 Mobile Farmer's Market
JCEO's Mobile Farmer's Market travels Monday-Friday to towns across Franklin County, selling fresh produce and baked goods. The market itself is a mini-bus converted into a store, lined with bins for fresh produce and a salad bar where customers can make their own mix of fresh-cut vegetables. In 2018, the market made 10 stops each week in Malone, Constable, Chateaugay, Fort Covington, Owls Head, Burke, and Brainardsville.
Proceeds from the market go towards the purchase of seeds and equipment for the following year, creating a pattern of self-sufficiency.
Want to learn more about Food Services? Fill out the form below.